Lubrication Specialties Inc., Manufacturer of Hot Shot's Secret, Announces Production of Hand Sanitizer in Response to COVID-19 Pandemic

Press Release:
Mt Gilead, OH, (April 9, 2020) – Lubrication Specialties Inc. (LSI), manufacturer of Hot Shot's Secret performance oils and additives and other specialty lubrication products, announced today they are redeploying a portion of the company's Mt Gilead, OH manufacturing facility and headquarters to make alcohol-based hand sanitizer to assist with preventative care during the COVID-19 pandemic.
LSI Brand Marketing Specialist, Eric Trimble, said, "We are now able to source what we need to manufacture hand sanitizer which meets the recommendations set by the World Health Organization. We are currently bottling the hand sanitizer and hope to start distributing it next week. We will be giving it away for free to our local hospital and healthcare workers, nursing facilities, over-the-road truckers and we will be placing a bottle in every shipment of Hot Shot's Secret product we send out the door. We would also like to thank our partners for helping us make this possible, including Hildreth Manufacturing LLC. and Folks Printing."
LSI will manufacture up to 4,500 bottles of 4 oz. hand-sanitizer over the next few weeks and to continue operations as long as supplies of raw materials are available. The hand sanitizer will be a 75% isopropyl alcohol antiseptic, non-sterile solution.
Lubrication Specialties, Inc. was founded by Chris Gabrelcik, a Certified Lubrication Specialist (CLS) and Oil Management Analyst and a well-known Ohio philanthropist. Both personally and through his company he has supported St. Thomas House of Discernment, Sacred Heart Church, St. Joseph Church, Friends of Morrow County Dog Shelter, Breast Cancer Research Foundation, Morrow County Chamber, Christmas Family, Edison Baptist Church, St. Stanislaus, Morrow County Historical Society, Koinonia Camp, Local Schools and library, Mt Gilead Lions Pancake Breakfast, Valley Christian Schools, and the Ohio Farm Bureau.
"Hand sanitizer is largely unavailable at U.S. retail outlets and has been out of reach for U.S. consumers in recent weeks as the U. S. grapples with the outbreak of the Coronavirus strain Covid-19," said Gabrelcik. "This is an unprecedented time in healthcare with many unknowns. We knew we had to do something to help and are working diligently to modify our space to bring this much-needed product to market."
For more information on Hot Shot's Secret's high performance engine oils and additives or for more information about LSI, visit hotshotsecret.com.  To speak directly with a Hot Shot's Secret highly qualified technician, call toll free 800-341-6516.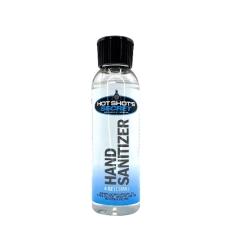 About Hot Shot's Secret™
Powered by science and with a commitment to environmental stewardship, Hot Shot's Secret offers a diverse line of high performance and preventative maintenance products including fuel and oil additives, engine and gear oil, lubricants and lubricity additives, and coolants developed as problem-specific solutions for gas and diesel powered vehicles of all make and model. Major markets include heavy-duty, commercial fleet, powersports, RV, agriculture and industrial. The company's flagship product, Hot Shot's Secret Stiction Eliminator, is the top selling brand for stiction removal.
About Lubrication Specialties Inc. (LSI)
LSI, located in Mt. Gilead, OH and formed in 1997, specializes in innovative product development with a focus on providing problem-specific solutions for equipment across a broad list of markets. In addition, the company's development of Hot Shot's Secret, a brand of high performance specially formulated oils, and additives for diesel and gas-powered engines and fuel systems, LSI provides chemical-based product development for private label. Owner and President, Chris Gabrelcik is a Certified Lubrication Specialist (CLS) and Oil Management Analyst (OMA) and was named Smart Business Leader for Central OH in 2019. Other company brands include Frantz Filters, Fluid Recovery, GREM and Microwave Renewable Technologies. For more information about Lubrication Specialties Inc. visit lubricationspecialties.com.